Sandinista!
Whilst every effort has been made to ensure the information displayed here is accurate, always check with the venue before attending (especially during the Covid-19 pandemic).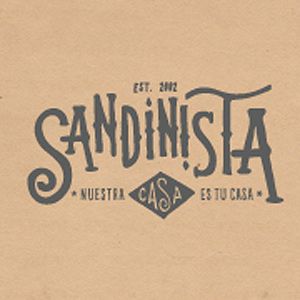 Inspired by a love for music, food, drinks and Latin culture with the maxim 'nuestra casa es tu casa' – our home is your home. As the Eagles sang: 'you can check out anytime you like, but you can never leave.'
Music
Music is our passion and Joe Strummer is at our heart. The Clash inspired us to name our bar after their fourth album Sandinista. We play an eclectic mix that covers rock, indie, funk, soul, reggae, 80s and more.
Central American Culture
Sandinista's revolutionary theme is influenced by the political movement in Nicaragua – The Sandinista National Liberation Front. They liberated Nicaragua from an oppressive right-wing regime in 1979 to 1990. The Central American influence is carried throughout the Latin inspired food and drink menu as well as the décor.
Rock'n'Roll and Food for the Soul
'It's more fun to eat in a bar then drink in a restaurant.'
Our menu focuses on simplicity and sharing. Choose from 'Pots, Pans or Cans', or sharing boards. All dishes are prepared using only the freshest ingredients and embody Sandinista's Latin-inspired food ethos. Simple great tasting cuisine that reflects the culture it was born out of.
Drinks (open every day till 3am)
Why did the Mexican push his wife off the cliff? … Tequila!
Sandinista has an impressively stocked bar and offers an impressive range of cocktails from the four corners of the globe. Our top sellers include fruity, tangy twists on the mojito, daiquiris, Mai Tais and other classics. Our back bar boasts an array of quality tequilas, rums and spirits with a fine selection of craft beers.
Text supplied by third party.