This article contains one or more affiliate links. If you follow one of these links, and make a purchase, we receive a commission.
Celebrate Earth Day 2023 with our top 5 sustainable brands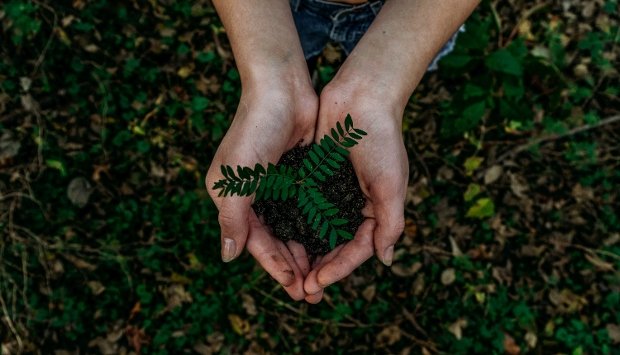 Show the planet some love this Earth Day and check out these best-selling sustainability brands
Earth Day is approaching, and as the world's largest environmental movement, it's responsible for a vast number of events and initiatives which work to drive positive change for the planet. Since its inception in 1970, the global event encourages millions of people to take action towards the environmental crisis in any way that they can, whether it be signing petitions, attending clean-ups, taking part in projects or changing their buying habits.
Speaking of buying habits, we've put together a list of brands which encourage sustainability and take positive steps to reduce their impact on the environment so that you can find your new favourite products while keeping the planet in mind.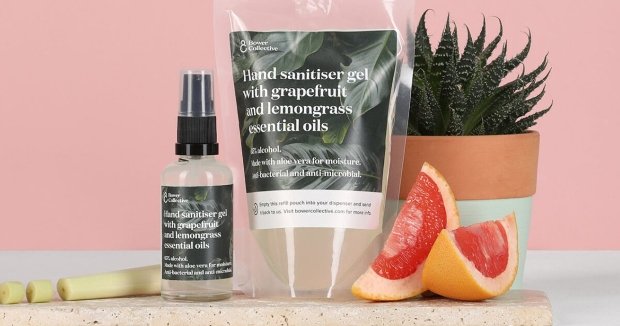 Bower Collective
Just in time for your spring clean, Bower Collective are determined to make sustainable living simple and accessible for all. Inspired by the Bowerbird who famously recycles brightly coloured plastic scraps to decorate its nest, they're passionate about bringing you sustainable products that look good, keep you and your home clean and reduce waste while doing so. Whether you're looking for bathroom cleaner, toilet tissue, shampoo, laundry liquid, or even lip balm in a range of fresh and natural scents, make sure you're stocked up for the months ahead.
Since Bower products are either plastic-free or arrive in refill packaging, you can decant your household product into one of their reusable dispensers or use one you already have in your home before returning their packing in a pre-paid envelope. These empty pouches are then aggregated for recycling with their specialist partner.
So, what's the impact of using Bower Collective's products? Almost 35,000kg of plastic waste has been saved from landfill and the natural environment while over 100,000㎡ of endangered seagrass has been protected through their partnership with the Marine Conservation Society.
Some of their bestsellers include:
- Bower Body Wash - Beach Coconut
- Bower Washing Up Liquid - Grapefruit
- Bower Toilet Cleaner - Pine & Cedarwood
- Bower Floor Cleaner with Linseed Soap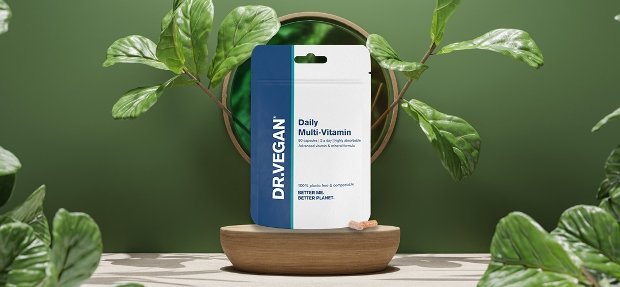 Dr. Vegan
Dr. Vegan's award-winning supplements are created specifically to protect the things they care about most - your health and the planet. Their products are made in the UK by expert nutritionists using clinically-studied and plant-based ingredients and what's even better, they're currently offering 15% off their whole range with the code DR15.
Despite their name, these supplements and vitamins work to make a difference to people's health no matter their diet, containing the most bio-available and effective ingredients to create formulas that don't contain nasty additives, animal ingredients or anti-caking agents.
Why Dr.Vegan?
-Clean and 100% vegan
-Plastic-free, home-compostable pouches
- Non-GMO
- Kind on the stomach
- Easy to swallow
Head to the Dr.Vegan website and choose from their best-selling supplements including their Debloat & Detox, MenoFriend, Gut Works, Skin Saviour ranges and more. Use the code DR15 to get 15% off your order at the checkout.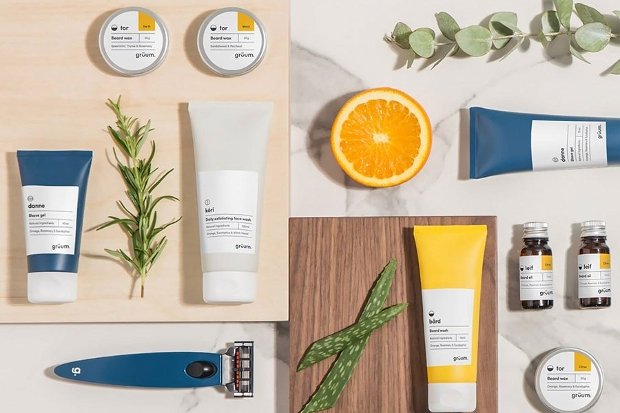 Gruum
Grüum creates clean skincare, haircare and shaving solutions which are affordable and packed with naturally beneficial ingredients, offering a range of products that are kind to you, your skin, the planet and your wallet.
Their commitment to the planet is made clear through all the clever little ways they package their products. Due to the distinct shape of their packaging, grüum deliveries can be posted straight through the letterbox which means they take up as little space as possible when being transported and resources aren't being wasted. Packaging is made from widely recyclable materials kept to a bare minimum so that you can do your bit at home, and for more pesky items like razor cartridges, they've started the UK's first and only razor cartridge recycling scheme - kudos!
As well as shampoo and conditioner bars, body bars, facial washes and moisturisers, grüum are offering the perfect essentials for summer including Iäka After Sun Mist, skyda Daily Defence Lotion and SPF50 Dermatologist Face Sunscreen. You can also choose from a range of reusable and handy accessories like soap bags and carry tins to make your summer travels hassle-free.
Why grüum?
– Single range of skincare essentials for all genders and ages with fair prices
– Proudly made in the UK
– Never testing on animals and vegan-friendly products
– Natural ingredients that are kind to skin
– Efficient and recyclable packaging that minimises waste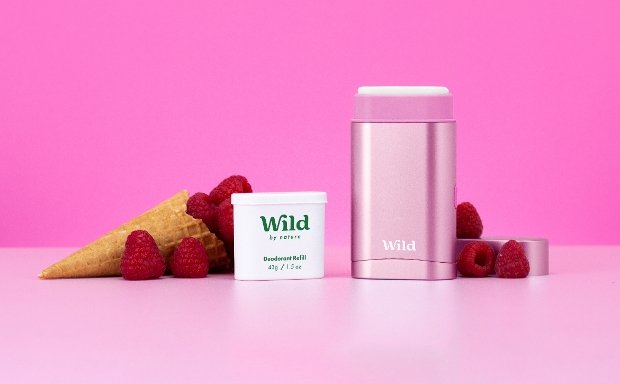 Wild Deodorant
Wild is a London-based natural deodorant company that focuses on quality, performance and sustainability, offering the world's first plastic-free, compostable and refillable deodorant. They utilise the powers of the natural world to create an effective, long-lasting deodorant that is free of aluminium and parabens whilst also being cruelty-free and vegan. Wild believes harnessing the powers of nature and our environment will create a healthier, happier (and better smelling) future for everyone.
Their beautifully designed aluminium cases that will last a lifetime come in five colours, and can be easily refilled with the deodorant that comes in a biodegradable bamboo refill. Scents include Sandalwood and Patchouli, Coconut and Vanilla, Orange and Neroli, Pomegranate and pink Peppercorn and more.
For every deodorant sold, Wild donates a percentage of the sale to planting trees via OnAMission. As a carbon positive company, Wild offset all its activity to ensure their overall output is beneficial to the environment, meaning you can do good while smelling great.You can use the exclusive code DATATHISTLE10 at the checkout to get 10% off your order.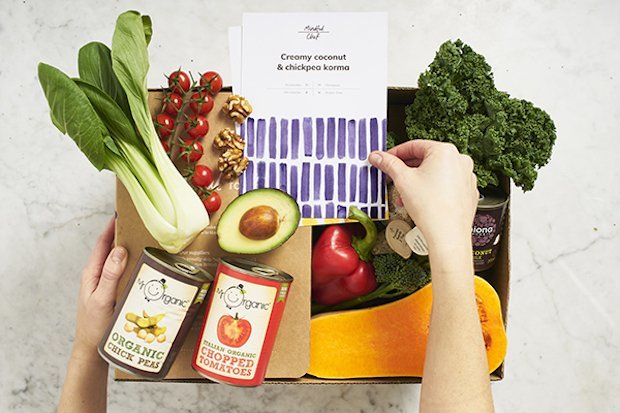 Mindful Chef
Mindful Chef delivers fresh, nutritionist-designed recipes with mindfully sourced ingredients to recipe box subscribers who want healthy, simple and delicious meals. Their ethos centres around responsibly sourced produce to guarantee field to fork in the shortest time possible, such as grass-fed beef, free-range chicken, and fish fresh from the UK.
Each delivery comes with all the fresh, well-sourced ingredients you need to cook a wholesome and healthy meal, with 20 recipes to choose from each week. With a number of vegan and gluten and lactose-free options, you'll be whipping up your new favourite recipes using delicious flavours from all over the world.
What's in the box?
- highest quality meat like grass-fed Yorkshire beef, fresh fish and veg
- precise ingredients for zero food waste
- simple step-by-step cooking instructions
- recycled denim insulation to keep ingredients cool
For every box purchased, Mindful Chef donates one meal to a child in poverty. Sign up today and get £10 off your first and second order.
Check out more on our offers page.